In such a fast-paced environment, companies are changing the way they work and reinventing their organizations. On the other hand, with Great Resignation, Boomerang Employees and the agile working transition, the need in automatizing processes became essential.
Let's introduce our new feature, Smart Organizational Chart!
It is almost impossible to follow the organizational chart manually due to the rapid rate of job entry, exit, position changes, and organizational changes in any business.
To help you save time, make data driven precise decisions and easily obtain the information you need, Peopleoma has created a new feature.
The newest feature of Peopleoma, Smart Organizational Chart, builds a scheme using the data it receives from your systems and allows you to view organizational changes immediately.
Through adaptive templates, you may also keep track of information including personnel-based information, department-based pay load, overtime status, turnover rate, and instructional planning.
Save your time with this feature and plan your organization easily.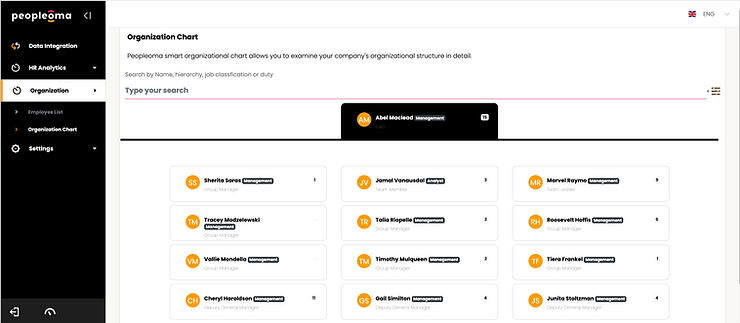 Meet our newest module, Executive Dashboard!
Managing a company with all aspects needs supportive instruments. Especially for group companies, companies with multiple entities or multinational organizations, it is not easy to consolidate data in a timely manner and create meaningful reports for executive boards frequently, due to different types of HR platforms being used.
Devoting such an effort into conducting real time KPI reports may result in time inefficiency and the need of cross checking the manual work done.
We have included the Executive Dashboard function in our program for your service.
Peopleoma integrates with all your HR platforms and analyses your data on a daily basis. Creates ready-to-use comparison dashboards for the key metrics such as active employee number, new hires, leavers, generation distribution, gender gap, average experience level, turnover rate etc. With the Executive Dashboard module, you can instantly track KPI data for each of your organizations. You can view comparison tables and monitor development trends of your entities. You may focus on key topics such as Diversity, Equity and Inclusion and take actions where needed. Peopleoma Executive Dashboard also supports creating HR mindset & culture and raises awareness in your company. 
You are one click away from the Executive Dashboard, please feel free to contact us for more information!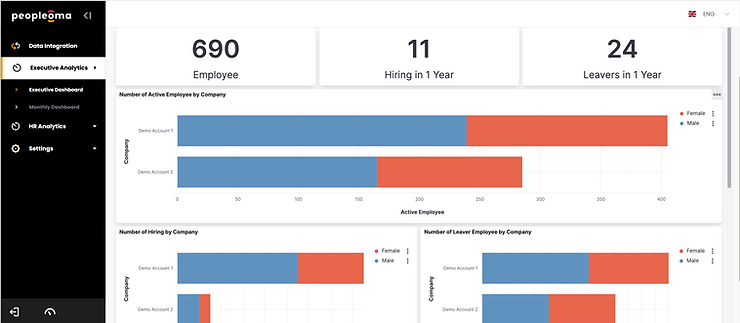 New Integration Onboarded!
Peopleoma is a SaaS analytics platform which gathers HR data from various platforms via integrations and creates meaningful insights, dashboards, and supports data driven decision making processes by analyzing and visualizing complex data sets.
Peopleoma's custom designed software organizes even the most complex HR data in a matter of minutes.
As of August 2022, Peopleoma Team has finalized Easy HR (Kolay IK – Turkey) integration projects with success.
What will these integrations do? Integration process has always been a bottleneck of digitalization projects. Easy HR users will now be able to sign in and start experiencing Peopleoma in 2 minutes with a single click and in this way, they will be able to realize their HR Analytics Project in minutes. Payroll analytics, smart organizational charts, executive dashboards, highlights, forecasts and dozens of HR KPI dashboards will be on their service.
Peopleoma Team continues to work on new collaborations, stay tuned!